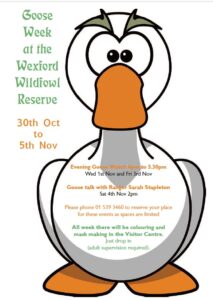 It's Goose Week at the Reserve from Monday 30th October to Sunday 5th November.
We'll have two evening goose watches from the Observation Tower on Wednesday 1st and Friday 3rd November, as well as a talk on the geese by Ranger Sarah Stapleton on Saturday 4th November.
Numbers are limited so please phone 01 539 3460 to reserve a place. All events are free of charge.
Throughout the week there will be colouring and goose mask making for children. No booking required, running all day, adult supervision required.